By Previve on January 11, 2011 | Category: Claudia's Blog | 12 Comments
I can't believe it's here. It's hard to believe I've been planning this day for nearly 10 months. I remember meeting with my friend Ali Weinberg for lunch on March 20th. I remember this day because it was one day before my 23rd birthday, the same Sunday when the Early Act passed.  Ali was my age and had a prophylactic mastectomy done a year before.  She regretted absolutely nothing and loved her new breasts.  After hearing her story and seeing her beautiful new breasts, I was brought to tears at the relief of knowing that a mastectomy was a viable option for a 23-year-old woman with a BRCA-1 mutation, that I didn't have to wait until 35 to do away with the anxiety and cancer risk associated with this defective gene, and that other 23-year-olds had already paved the way for me.  If Ali could do it then so could I.
So I started planning.  In March I started writing about my experience and by June I was filming with the PREVIVE team.  In September we launched our website, started collecting stories of incredibly brave Previvors, and my own story was featured in the Ladies Home Journal.  Then October took me up in a whirlwind.  NBC showed my story on national television, and PREVIVE started to receive and an even larger following.
At first I was kind of scared of how big everything was becoming.  Did I bite off more than I could chew?  I mean, I only wanted to get new breasts that wouldn't kill me, it couldn't be all that newsworthy.  But every time I read a comment and saw the tremendous outpour of love in my reader's words, I was moved to tears and felt even more compelled to carry on no matter what.  We must all continue to openly and honestly share our stories, because our journeys give the priceless gift of inspiration and have the potential to not only change lives but save them all together.
My life was changed when Ali Weinberg so graciously revealed every intimate detail of her story to me.  After seeing her so happy with her body and her decision, I knew I was going to be better than okay.  And after reading the other bold, courageous previvor stories on this website, I've become even stronger in my resolve.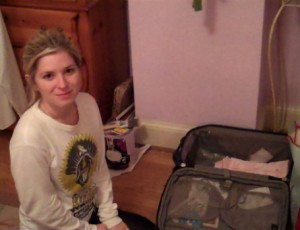 Here Goes Nothing
Now it's my turn to become a previvor and follow the footsteps of all the women who have paved the way for me.  In 12 hours I'll be heading into the operating room, and by tomorrow evening it will all be over.  Well, for the most part.  I'll still need more reconstruction, but my lifetime risk of breast cancer will have gone from 90% to 1% in the span of a few hours.  I can hardly wrap my mind around this one.  I bet I'll still automatically think to do self-breast exams, only to remember that my risk is a thing of the past.  How will it feel to no longer be threatened by this cancer anymore??  I can't imagine the relief that will come to me in a few short hours.  What a blessing.
In the meantime, I'm still nervous about the surgery itself.  I'm no longer mourning the loss of my breasts but now I'm anxious to embrace the new ones that won't try to kill me.  Although the actual thought of surgery makes me queasy.  I'm trying to remember that this procedure is completely routine for my surgeons and that it will all be over before I know it.  I hope it's as anti-climactic as I'm imagining.
My mom, my aunt, my grandfather, his wife, my amazing boyfriend, and my film crew will accompany me to the hospital tomorrow morning.  We plan to arrive at 7:30am so I can pay a deposit at registration and head straight to the waiting room.  My surgery is scheduled to begin at 9:40am EST and it should last about five hours.  The first part is when Dr. Willey, my breast surgeon, will remove my breast tissue and the risk of cancer.  Then the second part is when Dr. Spear will put me back together again.  Then by 3:00pm I should be in recovery and the healing will begin.
I know I didn't eat as healthy as I should have this week, and I should have gone to the gym today, and I should have drank more water, and…  Gosh, the list could go on.  But I need to put that all aside and try to get a good night sleep tonight.  My lips are a little chapped and I can't put any vaseline on them anymore.  I already showered with my antibacterial soap, shaved my legs, and I'll straighten my hair in the morning.  I won't be able to shower until my drains are removed approximately 7-10 days after the operation – yuck!  So I'm trying to savor the clean feeling right now.  At least I'll be able to shower as much as I want once I'm healed and I won't have to worry about breast cancer putting an end to my showers forever.
So I'm going to take out my contacts now and climb into bed.  I'm praying for serenity and peace of mind to get me through the day tomorrow.  My mom will post status updates on my facebook account to let everyone know how the surgery is coming along, so be sure to check there if you want to get the latest.  Thank you to everyone for your sweet emails, facebook messages, phone calls, text messages, etc.  I feel so incredibly loved and supported.  Knowing that I have a community of people across the country thinking of me tomorrow helps more than you can ever imagine.  Thank you so very, very much!
And I can't end this blog without saying a proper goodbye to my breasts.  So, breasts, thank you for bringing me into my womanhood.  But most of all, thank you for helping me realize the importance of my health, despite my age.  Thank you for helping me become so proactive and helping me realize the value of my life.  For that I'm forever grateful.  Thank you.
Now it's time for a new lease on life.  Here goes nothing!