By Previve on October 3, 2010 | Category: Claudia's Blog | 35 Comments
My surgery is only three months away now. It's beginning to really sink in, or is it? Do I truly understand what I've volunteered myself to do? I find myself clutching my chest more often, feeling for the breast tissue that will soon be sliced up and frozen in a tissue bank. I even had a dream the other night that the doctors found cancer and had to operate immediately, reconstruction had to wait. In my dream, I felt completely unprepared to go under the knife and cried my eyes out. The magnitude of my decision is definitely hitting me.
But at the same time, I wish it could be over with tomorrow, because all of this waiting and anticipation is eating me up! I've made my decision, I've thought it through, and now I want it done and behind me. I get squeamish thinking about the surgery. I've only been under anesthesia once before for a tooth extraction, so the thought of being carved out like a pumpkin gets me feeling nauseous. Maybe I'll bring my iPod and listen to a motivational "you go, girl!" song as the anesthesia takes me under. I need a good battle cry!
Meanwhile, the preparation is picking up as each day passes on the calendar. In early September, the PREVIVE team and I flew to Los Angeles for my topless photo shoot. On our first day in California, the team suprised me with meeting Shaney Jo from Keep a Breast! This totally cool, inspirational woman started a non-profit to educate girls about breast cancer prevention and awareness primarily through art. Among their projects, Shaney Jo creates breast molds of women before their surgeries so they might remember how their body looked before or after their mastectomies. Then the women paint their molds. One woman, for instance, painted her breast mold as a pinata to represent the physical struggle she endured with cancer but also the many gifts that showered down from that experience.
To my surprise, Shaney Jo brought her materials and made a mold of my own breasts! It was strange to feel her lay the wet strips of plaster across my chest, moving her hands across the hardening layers to shape the mold to my form – a form that is about to change. After my mastectomy, I won't be able to sense very much touch anymore. I didn't want to feel sad, I wanted this to be an empowering experience. And it was. But it also felt bittersweet. My grandmother is an artist, and she agreed to paint my mold for me. I'm not sure how I want her to do the job, how my experience can best be expressed. But I want it to be bright and bold.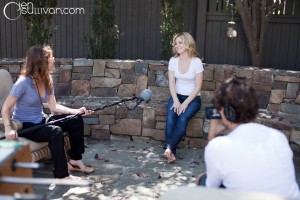 Claudia being interviewed by Previve crew
Later that day, I got to finally meet my Pink Pal, Rebecca Collard, for the first time! Rebecca is one of two PinkPals I've mentored through
Bright Pink
, an organization that specifically supports young women at high risk for breast and ovarian cancer. Like myself, Rebecca also carries the BRCA1 mutation. But we're handling our risk a little differently. Rebecca really wants children, and she wants to breast feed her babies. Since she's only 26 years old, Rebecca wants to give herself time to marry the right man for all the right reasons. Motherhood isn't on her immediate radar. So until that day comes, Rebecca will go in every six months for a mammogram or breast MRI. Once she's had her children then she'll feel comfortable having the prophylactic bilateral mastectomy.
I share a little bit of Rebecca's story to show that there are several different ways to handle breast cancer risk as a young woman. No one way is right or wrong. It is simply up to the woman and what she feels most comfortable doing. Even though I couldn't be more anxious for the mastectomy at 23 years old, surgery is not a good idea for Rebecca at this point. Instead, exercising regularly and watching her diet carefully is right for my friend. You'll get to hear more of Rebecca's unique experience living with the BRCA1 mutation in one of our upcoming webisodes – stay tuned!
Well, now I'm back in Washington, DC! Jen O'Sullivan, my dear friend and photographer, sent me the pictures from my topless photo shoot from the Los Angeles visit. I couldn't be more pleased with the photographs! They're absolutely beautiful, intimate and intensely personal. After my surgery, I bet I'll feel a little differently when I look at these images. Right now I just see all the same old familiarities of my body. I wonder how I'll feel about these pictures in three, four months. Either way, I'm forever appreciative to Jen and my surrogate parents, Albert and Annaliese from Lunch salon, for making this day so special and the photographs so beautiful!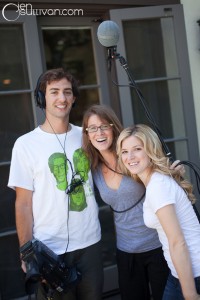 Previve crew and Claudia
Now that I've captured my natural form, I can move on and prepare for the transformation ahead. I joke that I like to think of the breast reconstruction more as a breast
renovation
!  I  just want them to be as perfect as possible if I'm going through all of this!  I'm pretty sure I definitely want silicon implants once I'm done with the temporary expanders.  My large chested friends have told me to not go too big, while my small chested friends encourage me to live it up and get those D's they've always wanted.  I suppose these decisions can wait until after the mastectomy, once I'm in my "renovation" period.  But I'm giving it more and more thought.
And with it now being breast cancer awareness month, the national media is also giving previvors more attention!  Tonight at 4:40pm CNN will be featuring the recently-released book Previvors: Facing the Breast Cancer Gene and Making Life-Changing Decisions.  The BRCA community has anxiously awaited the book's release, as it covers the stories of five courageous women who share the intimacies of their experiences with genetic testing, medical screening/surveillance, and surgery.  The author, Dina Roth Port, also includes the latest research and advice from interviews with over seventy leading medical experts.  Please flip on the television tonight to learn more about this book and the inspirational women behind it!  And, of course, buy yourself a copy
To say the least, the country is definitely tuning in to the previvor community and the unique issues we face.  CNN will use the 4:40pm time slot every Sunday this month to cover cancer and genetics.  PREVIVE will also be hitting the national airwaves this week!  Monday night, NBC Nightly News is featuring my story, including interviews with my genetic counselor, Beth Peshkin, and my breast surgeon, Dr. Shawna Willey.  And, get this, the TODAY Show is having me up on Thursday morning to share my journey and the PREVIVE project with the nation!
And my 27-year-old previvor friend, Emily, recently shared her story for the first time in Today's Charlotte Woman!  Click on "this issue" and scroll over to page 29 to read her story.  The article is incredibly well-written and thoroughly presents some of the most important facts and issues surrounding genetic testing and risk management.
It takes a tremendous amount of courage to open up and publicly share your story, just as Emily and the other women of Previvors did.  I'll never forget the first time I published my experience with genetic testing in my school paper.  At first I thought, "Oh God!! I made a serious, serious mistake! How can I take it back?!"  But one by one college peers and professors approached me to offer their sincere gratitude and support.  They didn't know about BRCA before reading my article, but now they would share this new knowledge and positive outtake with family and friends.  I could feel my heart smile within to think to think that I sparked dialog that might eventually save another person's life!
PREVIVE encourages you to share your own story with us!  Whether you're a man or a woman, previvor or not, we want to hear from those of you who are learning about their health and taking proactive measures to overcome odds and live life more fully!   As I mentioned in another post, I think the greatest gift we can give in this world is inspiration, because it's the gift that keeps on giving.  And each time I read a new story, I can feel the inspiration and hope tingle throughout my body.  Your courage is contagious, so let's spread it around!  Please email your stories (and a picture of yourself) to previve@gmail.com.  We'll be sure to post them on the PREVIVE website for the world to see
And on that note, I leave you all for now.  This week is a big one for PREVIVE, so I ask you all to keep us in your prayers.  Be sure to watch CNN tonight at 4:40! xoxoxo