By Previve on April 10, 2011 | Category: Previvor Stories | 10 Comments
My name is Tamara Weinmann and I currently live in New Jersey.  I am 33 years old, married and a mother of a 6 year old boy and 2 girls, ages 4 and 1.  I recently underwent my prophylactic mastectomy and reconstruction (March 21st, 2011) and am still fresh on my journey to full reconstruction.  I am BRCA negative, but have a strong family history and have had many of my own breast 'issues' over the years!  I wrote this letter to my breast surgeon and plastic surgeon just last week.  It contains all my feelings and emotions and best describes where I am currently at.  If anyone would like to speak with me, I am open to sharing!  There have been so many wonderful, supportive and honest women that I have met and spoken with during this journey.  Please see my letter below.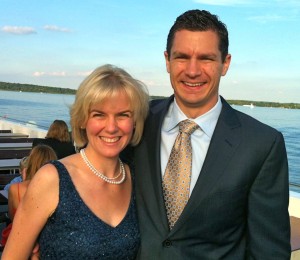 Tamara Weinmann
Dear Dr. DiGioia and Dr. Hall-
I have thought a lot about what I want to say to you and write in this note, and I am sure I still won't even be able to get close to saying everything that I feel.  Firstly, a very big thank you.  Thank you to you and Dr. Hall for performing my prophylactic mastectomy and reconstruction (Dr. hall – we've still got a ways to go!). Dr. DiGioia, I want to thank you for welcoming me in your office all those years ago when I was just 21 years old.  I will forever be thankful to Dr. Brescia for recommending you to me!  Thank you for not turning me away, for not saying I was too young to have all these breast issues. Thank you for taking me, my concerns and my breasts seriously all these years – for not dismissing any concerns or thoughts I had.  You have monitored me closely, guided me through biopsies, lumpectomies, encouraged me and said it was ok for me to have more babies – my breasts would be ok in the meantime!  You have been my biggest supporter and advocate and I cannot thank you enough for that.  There are no words to describe how I feel for what you and Dr. Hall have done for me.  I know I said this in recovery, but you two will forever sit on a pedestal in my heart. You have given me relief, freedom of constant fear of breast cancer.  I no longer walk around with a huge weight on my shoulders.  I'm no longer waiting for the other shoe to drop.  I no longer think about this disease 24 hours a day!  You have given my children a childhood free of a mother who is dealing with breast cancer.  You have given my husband a sane wife, who is not constantly paranoid about her breasts.  You have given my parents, and especially my mother the knowledge that I will not suffer as she has and is.
I thank you for all the time you have given me.  You both have always been so generous with your time – seeing me countless times, answering every detailed question I had.  Dr Hall, thank you for being patient with me and explaining everything as I went back and forth between nipples and  no nipples, small breasts and larger breasts!  You two are one of a kind!
I want to share with you what my husband wrote to me this year in a valentines card he gave to me: "I especially can't wait to talk to you after the first surgery is complete.  I'm sure there will be tears of joy similar to having one of our babies!". That is the feeling you have given my husband and I!  There really are no words to describe the place you will hold in my heart and life forever.
Thank you.
Tamara